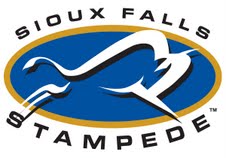 The USHL season is fast approaching.
The Stampede will report to training camp Labor Day weekend, with camp officially opening on September 2.
The Sioux Falls Stampede kick off their preseason schedule by participating in the USHL Atlantic Challenge September 6 – 8 in New Jersey. The Herd is one of six USHL teams participating in the challenge. Other teams participating are Sioux City, Waterloo, Cedar Rapids, Muskegon and Youngstown.
The Herd will play Cedar Rapids on September 6 at 7 p.m. On Saturday, September 7, they will face off against Youngstown at 11:30 a.m. The Atlantic Challenge concludes on Sunday, with the Stampede taking on Muskegon at 10 a.m..
You can hear the Cedar Rapids game on KELO Newstalk 1320 - AM and 107.9 - FM and online at www.kelo.com starting at 6:50 p.m., while the Saturday game against Youngstown will be heard on KWSN and online www.kwsn.com starting at 11:20 a.m.. All games can also be heard on FASTHockey, the League's broadcast partner.
The preseason continues in Sioux City in the USHL Fall Classic West. They will play Omaha at 10:00 a.m. on September 11, and Sioux City on September 12. Both games can be heard on FASTHockey.
The Stampede will start the regular season September 21 in Des Moines.