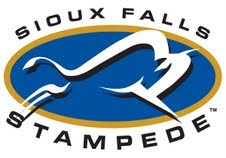 Sioux Falls, SD (KWSN)—The United States Hockey League (USHL) announced Monday that Stampede players Zeb Knutson and Chad Duchesne have been named USHL Players of the Week. Knutson has been named CCM Forward of the Week while Duchesne is CCM Defensive Player of the Week.
Knutson earns the award for the third time this season after posting 8 points (5g, 3a) and a plus-3 rating in three victories last week. On Wednesday, Knutson tallied the eventual game winning goal in a 3-0 shutout victory at Lincoln. On Friday, he recorded two assists and was a plus-2 in a 3-0 home win over Dubuque and followed performance with a five point night on Saturday in a 10-4 win over the U.S. National Team Development Program. The Sioux Falls native tallied four goals in the game and became the first player in franchise history to tally four goals in one game twice in a season. He also posted four goals in a victory at Indiana in late September. The Minnesota State-Mankato recruit is second in the USHL in goals with 18 and fourth in points with 28.
Duchesne earns defensive player of the week honors for the second time this season after recording 3 points and a plus-4 rating in three games last week. On Friday, Duchesne's third period goal sealed the victory for the Stampede over Lincoln. He posted two shots on Friday in a win over Dubuque before tallying two helpers in the Herd's win on Saturday. The Northeastern University recruit has 14 points (4g, 10a) and is a plus-5 in 22 games this season for the Herd. His 14 points are third most amongst USHL defenseman this season.
Knutson, Duchesne and the Stampede return to action this Saturday night when they host the Sioux City Musketeers at 7:05 PM. It is also the annual "Teddy Bear Toss Night" in which fans are encouraged to bring NEW stuffed animals to the game and toss them onto the ice after the Herd's first goal. Fans who write their section, row and seat number on the bears will have a chance to win one of four Stampede prizes including a pink team jersey and a suite for an upcoming game. Tickets are available at the Sioux Falls Arena box office or any Ticketmaster location.
Courtesy: Sioux Falls Stampede