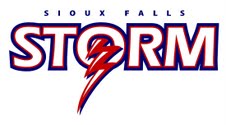 Sioux Falls, SD (KWSN) The Sioux Falls Storm and the Sioux City Bandits, now in two different leagues, are pleased to announce they will play a preseason exhibition game on Friday, February 7, 2014.
Kickoff is scheduled for 7:05 at the Tyson Event Center in Sioux City, Iowa. This will be the first time the two teams have met since the 2010 season. The Bandits will return the favor by traveling to Sioux Falls next season for an exhibition game.
When these teams were both members of the Indoor Football League, their rivalry results in some of the greatest games in IFL history. In 2010, the Bandits joined the CPIFL. Storm owner Todd Tryon says his hope is that this a step toward renewing what was one of the best rivalries in all of indoor football.