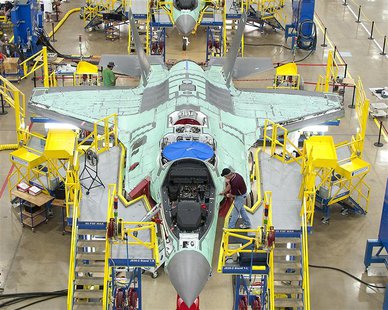 WASHINGTON (Reuters) - The Air Force general who heads the $396 billion F-35 Joint Strike Fighter program said he planned to restructure the Pentagon's F-35 office as part of an overall drive to reduce costs of the costliest U.S. weapons program.
Lieutenant General Christopher Bogdan, who took over the helm of the program in December, told reporters after a defense conference that he planned some "housekeeping changes" to pare the current size of the program office.
"Mark my word: I am reorganizing and I am making personnel changes," Bogdan said after a speech at a conference hosted by Credit Suisse and defense consultant Jim McAleese.
Bogdan did not give a target date for how many positions could be cut from the program office, but said he expected prime contractor Lockheed Martin Corp and Pratt & Whitney, which makes the engine for the single-engine warplane, to streamline their administrative operations as well.
Pratt is a unit of United Technologies Corp.
"I plan on leaning out my program office at the same rate that I want to see Lockheed Martin and Pratt & Whitney lean out their program offices," Bogdan said.
The F-35 program is about seven years behind schedule and has seen costs rise about 70 percent above initial estimates. Bogdan said it was imperative to make the aircraft more affordable, or orders would drop off, raising costs further.
Bogdan said he hoped to avoid the kind of "death spiral" that resulted in much smaller orders for the F-22 fighter, also built by Lockheed, and other aircraft.
The Pentagon's chief arms buyer, Frank Kendall, told reporters after a speech at the same conference that the large size of Lockheed's F-35 program office was discussed during protracted negotiations with the company about a fifth batch of F-35 fighters that was resolved in December.
"They do have a very large program office. That's one of the cost elements that we talked about during the lot 5 negotiations," Kendall said.
He said the Pentagon's F-35 program office was about the right size when it was headed by Bogdan's predecessor, Vice Admiral David Venlet, but he would talk with Bogdan about the issue.
He said the F-35 program office was larger than most because it includes representatives from the eight countries that are helping to fund its development, and the three military services.
(This story corrects headline and first paragraph to show Pentagon did not refer specifically to cutting jobs)
(Reporting By Andrea Shalal-Esa; Editing by Gerald E. McCormick and Sofina Mirza-Reid)