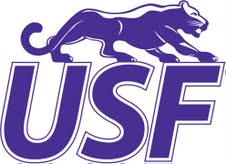 SIOUX FALLS, S.D. (KWSN) - USF (4-8) continued its week of competition in California with a 4-1 loss to No. 11 and 2011 NAIA national champion Concordia University-Irvine (20-9) in a game played at Eagles Field in Irvine, Calif.
Junior Derek Fischer was charged with the loss. The Brandon Valley product worked seven innings and allowed nine hits and four runs, of which two were earned.
The Cougars went down without much of a fuss in the top of the first inning and the side was retired on nine pitches. CUI followed with two hits off of USF ace Derek Fischer in the bottom of the inning but did no further damage. Dillon Bryant's single was essentially erased when he was caught stealing by USF backstop Dylan Dwyer and Bryan Garza grounded out to Corey Vasquez to end the inning.
In the second, Zach Ireland won a 3-2 count battle with Irvine starter Blake Harrison with a one-out infield single but that was the Cougars' lone hit in the frame. The Eagles scored two runs in their half of the second off of an RBI ground-out and a sacrifice fly to lead 2-0.
USF broke through in the third inning when Vasquez drove in Ryan Fobes, who had gotten things going with a one-out single up the middle. Cutler's four-pitch walk jacked the bases, but the Cougar threat was extinguished when Jeremy Varner hit into a 5-2-3 double play.
The Eagles got the run right back in a two-hit third frame that also featured three stolen bases. Designated hitter Ty Holm led-off with a single and would steal third after moving up on a ground out. He scored off of Garza's two-out infield RBI single. Garza swiped his way to third before another infield ground-out brought the inning to a close.
Leading 3-1 in the fifth, the No. 11 Eagles used three hits and a fielder's choice to manufacture the last run in the contest.
Irivine starter Harrison and closer Phil Gerber held the Cougars to two hits in the last four innings; Dwyer's two-out double in the eighth and Ireland's lead-off base hit in the ninth.
Wesley Kroupa's ground out to second would end the game.
Ireland finished 2-for-4 at the plate while Vasquez tallied USF's lone RBI. The Cougars struck out seven times and left six runners stranded.
The same two teams will square off tomorrow. The 2:30 p.m. (PT) contest will wrap up spring break for the Cougars.
Courtesy: USF Athletics