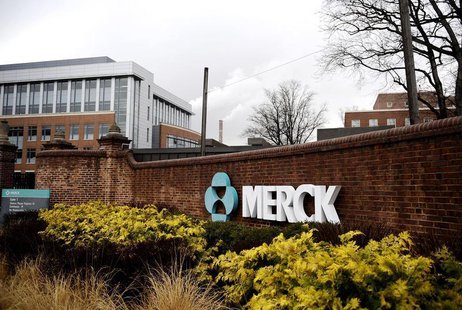 By Ransdell Pierson
(Reuters) - Merck & Co Inc reported disappointing first-quarter sales on a surprising downturn for its Januvia diabetes medicine, the company's biggest product and usual earnings driver, and the drugmaker cut its profit forecast for the full year.
Shares of Merck fell 3.1 percent in premarket trading.
The drugmaker's earnings beat forecasts for the quarter, thanks largely to a favorable tax rate, but the quarterly results were overshadowed by Januvia's plight.
Merck reported net income of $1.59 billion, or 52 cents per share, compared with $1.74 billion, or 56 cents per share, in the year-earlier quarter, when it took charges for $1.6 billion of acquisition and restructuring costs.
Excluding special items, Merck earned 85 cents per share. Analysts on average were expecting 79 cents, according to Thomson Reuters I/B/E/S.
Global sales fell 9 percent to $10.7 billion, below the $11.09 billion Wall Street was expecting.
Jefferies & Co analyst Jeffrey Holford said weak sales of Januvia and a similar drug called Janumet were the main reason company sales missed the mark during the quarter. He said weak sales of the diabetes drugs, and recent setbacks for a number of Merck's experimental drugs, were a cause for worry.
Merck said its board had authorized additional purchases of up to $15 billion of the company's common stock, and that it would make repurchases of about $7.5 billion over the next 12 months.
"The $15 billion share repurchase program announcement is a positive for investors, but doesn't address poor recent research and development productivity and may be viewed as a temporary band-aid to cover a worrying decline in the growth of Januvia," Holford said in a research report.
Sales of Januvia, one of the company's fastest-growing medicines in recent years, fell 4 percent to $884 million, while sales of Janumet rose 4 percent to $409 million. Combined sales of the medicines fell 1 percent to $1.3 billion. By contrast sales of the drugs jumped 18 percent and 17 percent, respectively in the prior quarter.
Merck said their decline was due to 5 percent lower sales in the United States, driven by reduced customer inventory levels, which were partly offset by higher overseas sales.
Sales of asthma drug Singulair plunged 75 percent to $337 million. The pill was Merck's biggest product, with annual sales of $6 billion, before cheaper generics flooded the U.S. market last August.
The company's animal health business posted quarterly sales of $840 million, a 2 percent gain, while sales of Merck's array of consumer care products rose 3 percent to $571 million.
The company said it expects full-year 2013 earnings, excluding special items, of $3.45 to $3.55 per share. That is below the $3.60 to $3.70 it had forecast in February.
In lowering its profit view, Merck cited "pressures on sales that are greater than previously anticipated," including the stronger dollar, new research programs and higher taxes.
Merck shares were trading at $45.50 compared with their closing price of $47.00 Tuesday on the New York Stock Exchange.
(Reporting by Ransdell Pierson; Editing by Gerald E. McCormick and Lisa Von Ahn and Chizu Nomiyama)