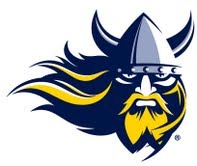 ROCHESTER, Minn.(KWSN) – Augustana's run came to a close at the Northern Sun Intercollegiate Conference tournament with a 2-0 loss to Minot State. The Vikings now own a 32-15 record and Minot State survives another game with a 38-8 record.
This was just the Vikings second shutout loss of the year and the first time in four NSIC tournaments that the Vikings haven't appeared in the championship game.
A pitcher's duel carried into the fourth inning, but Minot State was able score first. Carley Pickett tallied the Vikings only hit through four innings, and she held the Beavers without one through three innings. Tiffany Friesen broke up Pickett's no-hit bid with a single through the left side with one out in the fourth.
Friesen was pushed to second on a hit batsmen and Brittany Thorson singled her home to break the 0-0 tie. Emily Heinz answered the Beavers' run with a leadoff single and was replaced on the base paths by Cassandra Kranz as a pinch runner. Kranz was sacrificed to second and moved to third on a groundout for the first Viking scoring threat, but the Vikings couldn't bring her in.
Jenelle Trautmann had what appeared to be two home runs altered by the dome roof and the Vikings couldn't get on the board in the fourth through sixth innings. Minot State did push one more across in the bottom of the fifth inning on a trio of singles.
The Vikings appeared ready for a comeback, but one defensive play ended Augustana's come-from-behind bid. Emily Heinz and Erin Kempf led off the last inning with a single apiece to set up a big inning.
Chelsi Winskowski stepped in the box and laced a ball down the third-base line, but Staci Fournier stabbed the hard-hit ball out of the air and doubled up Heinz on second. Pickett wasn't able to rejuvenate the inning and grounded out to the pitcher to end the game. The Vikings now await the NCAA Selection Show on Monday at 10:30 a.m. to see if they are awarded an at-large bid to the NCAA Central Region Tournament. The Vikings were ranked seventh in the rankings released Wednesday.
Courtesy: Augustana College