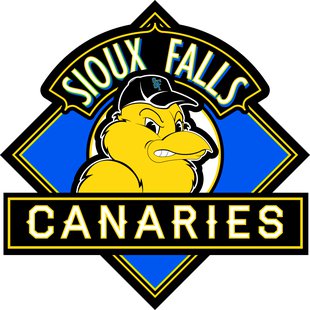 SIOUX FALLS, SD (KWSN) – In preparation for Thursday's season opener that launches their 21st season, the Sioux Falls Canaries set their roster on Tuesday to 22 active players.
The Canaries 2013 roster features a handful of familiar faces and 15 players brand new to Sioux Falls. Veteran pitcherBen Moore returns for his fifth season in Sioux Falls along with pitchers Mitchell Clegg, Alan DeRatt, Kyle Ruweand Jack Van Leur. Infielders Cory Morales and Jake Taylor are also back for a second campaign.
Moore has been tabbed as the Opening Night starter when the Canaries face Sioux City on Thursday, May 16. With one more victory, the highly decorated hurler will be alone atop the list of most career wins in the American Association. He is currently tied with former St. Paul Saints pitcher Charlie Ruud with 39 victories. Moore already owns the league records for career strikeouts with 477, but he has his eyes set on the Canaries team record, 519 set by Rich Hyde.
Local talent is part of the Canaries roster as well. Van Leur is a former Brandon Valley High School star returning for his second season as a lefty specialist in the Birds' bullpen. Former Augustana College standout Nate Baumann will patrol the Canaries outfield. Baumann is in his second professional season after establishing several offensive records at Augustana College.
Many of the new additions to the roster bring impressive resumes. Veteran infielder John Alonso is a past league all-star and won a championship in 2011. Slugger Jared Clark is a two-time Organization Player of the Year with Colorado. Outfielder J.P. Ramirez earned the same honors with the Washington Nationals. Outfielder Nick Van Stratten, slated to hit leadoff, is a former Player of the Year in the Kansas City Royals system. Pitchers Kirk Clark,Matt Daly and Jordan Whatcott have all been league all-stars.
The Canaries roster may carry 23 active players through the 10th day of the season, at which time the roster may have a maximum 22 players.
Tuesday was Canaries media day and Craig and Chris talked with returning ace Ben Moore, along with newcomers Tim Pahuta and John Alonzo.
After Thursday's season opener in Sioux City, the Canaries open their home season at 7:05 p.m. on Friday, May 17, when they host the Sioux City Explorers for three straight games. Friday night features a First Premier Bank Magnetic Schedule Giveaway and a postgame fireworks show.
More information about tickets and group outings is available by calling (605) 336-6060 or visiting www.sfcanaries.com.
Courtesy: Sioux Falls Canaries