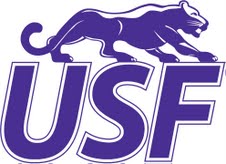 SIOUX FALLS, S.D. (KWSN) – Sioux Falls head men's basketball coach Chris Johnson announced that Preston Rayburn signed a national letter-of-intent with USF Tuesday and will join the Cougars' program this fall. Rayburn, a 6-5, 225-pound forward from Littleton, Colo., is the fourth player to sign with USF during the spring signing period.
We are really excited Preston decided to further his academic and athletic career at USF," said coach Johnson. "He comes from a great program at Lamar; he's skilled and willing to do whatever it takes to be successful."
Rayburn joins USF after playing two seasons under head coach Adam Schwartz at Lamar Community College (Colo.), where he averaged 10.4 points along with 5.7 rebounds and 1.1 steals and shot 40 percent from the field and 82 percent from the foul line in 2012-13. Making 31 appearances, Rayburn reached double digit scoring 18 times, including four double-doubles, to lead the Runnin' Lopes to a 17-14 mark, and a 9-5 record in Region IX (South Sub-Region) action.
He posted a career-high 17 points on three separate occasions last season, including a timely performance during the season finale, Lamar's Region IX tournament matchup with Northwest College. In 2012-13, Rayburn ranked second in rebounds and free throw percentage, and was third in scoring for the Runnin' Lopes.
"Preston's versatility on both ends of the floor really sets him apart," added Johnson. "His strength, size and ability to shoot the ball allows him to score in a lot of different ways. He shoots the three well, he can attack and finish at the rim, and he has a solid mid-range game as well."
As a freshman for Lamar, Rayburn posted 6.7 points, shooting 50 percent from the floor, and 3.6 rebounds. He was also the team's second-best free throw shooter at 82.5 percent (32-of-39) in 2011-12.
The Cougar's 2013-14 class now consists of two guards, Mack Johnson and Kebu Johnson, a couple of wings, in Rayburn and Charles Ward, and a pair of front court players in Tom Aase and Daven Ottley.
Courtesy: University of Sioux Falls