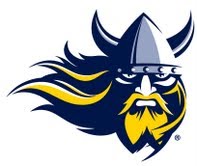 INDIANAPOLIS, IN (KWSN) - Augustana debuted at No. 8 in the first edition of the NCAA Central Region volleyball rankings released Wednesday evening.
The Central Region is comprised of the Northern Sun Intercollegiate Conference (NSIC), Mid-America Intercollegiate Athletics Association (MIAA), and Grate American Conference (GAC). The top eight teams in the final set of rankings will receive a bid to the NCAA Central Region Tournament.The Vikings (18-6, 10-6, NSIC) are one of six NSIC teams ranked in the top 10 of the rankings.
Concordia-St. Paul is the No. 1 team in the first set of rankings, followed by Minnesota Duluth (fourth), Southwest Minnesota State (fifth), Northern State (ninth), and Wayne State (10th).Aaugustana hosts MSU Moorhead on Friday at 7 p.m. and Northern State on Saturday at 4 p.m. as they look to secure a spot in the US Bank/NSIC Tournament and improve upon their Central Region ranking.
NCAA Central Region Rankings - Nov. 6, 2013 Rank School In-Region Overall 1 Concordia-St. Paul (NSIC) 18-1 24-1 2 Central Missouri (MIAA) 21-1 25-1 3 Washburn (MIAA) 20-2 25-4 4 Minnesota Duluth (NSIC) 19-2 24-2 5 Southwest Minnesota State (NSIC) 14-5 18-6 6 Harding (GAC) 20-3 21-7 7 Nebraska-Kearney (MIAA) 18-3 22-3 8 Augustana (NSIC) 16-6 18-6 9 Northern State (NSIC) 17-4 19-4 10 Wayne State (NSIC) 16-7 18-7
Courtesy: Augustana College