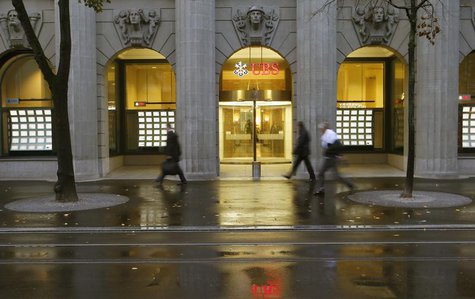 (Reuters) - UBS AG has reached an immunity deal with European Union authorities that will protect the Swiss bank from further penalties for alleged manipulation of key interest rates, the Wall Street Journal reported, citing people familiar with the matter.
Under the arrangement, UBS is rewarded for cooperating with investigators and turning over information about other banks, the Journal reported.
UBS has been granted immunity in a case relating to efforts to manipulate the London interbank offered rate, or Libor, according to WSJ. (http://link.reuters.com/gym84v)
Authorities in the United States, Britain and elsewhere have so far fined UBS, Royal Bank of Scotland , Barclays , Rabobank and broker ICAP $3.7 billion for manipulating rates.
The Libor and its European cousin (Euribor) are used to price hundreds of trillions of dollars in assets, from mortgages to derivatives.
(Reporting by Sakthi Prasad in Bangalore; Editing by Gopakumar Warrier)