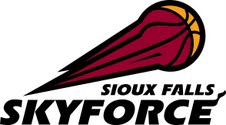 Sioux Falls, S.D. (KWSN) – The Sioux Falls Skyforce defeated the Reno Bighorns 103-73 Saturday night at the Sanford Pentagon. Six players scored in double figures as Sioux Falls improved to 2-0 at home.
Sioux Falls outscored Reno 33-14 in the first quarter and led by as many as 28 points in the second quarter before settling for a 54-33 lead at halftime. Quincy Douby and Anthony Mason Jr. both scored 10 points in the opening half.
Reno trimmed the deficit to 12 points (63-51) with 3:48 to go in the third quarter but Sioux Fall outscored Reno 27-14 in the final quarter to pick up a convincing win.
Chris Ayer recorded 15 points and seven rebounds in his first action of the season. Jamine Peterson recorded 14 points and five rebounds while DeAndre Liggins had a solid all-around game with 11 points, 10 rebounds and six assists.
Sacrament Kings assignee Ray McCallum scored a game-high 16 points to go along with four rebounds. DeQuan Jones and Tajuan Porter both scored 12 points.
Reno visits Santa Cruz Tuesday night at 7 p.m. PT. Sioux Falls hosts Iowa Friday night at 7 p.m. CT.
Courtesy: Sioux Falls SkyForce