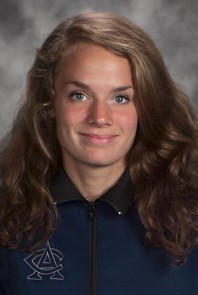 BURNSVILLE, Minn. (KWSN) - For the third time this season, Runa Falch has been named the Northern Sun Intercollegiate Conference athlete of the week.Falch was the top Division II finisher at the Chile Pepper Invite on Saturday and she was the 12th overall finisher.
The senior from Steinkjer, Norway clocked a 17:31.8 on the rain-soaked course, helping the Vikings to a team win in the college division.In a race with 15 Division I teams, Falch finished higher than 68 of the 75 scoring runners from the Division I schools.
Falch also bested runners from four Division II teams that were regionally ranked, including two who appeared in the latest USTFCCCA national rankings.Falch has been honored with NSIC athlete of the week six times and has twice received national athlete of the week accolades this season.
The Vikings will send a group of runners this weekend to Mankato, Minn. for Caty's Run on Oct. 12.
Courtesy: Augustana College