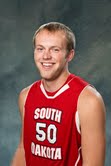 VERMILLION, S.D.(KWSN) —University of South Dakota senior center Trevor Gruis has been named to the Preseason All-Summit League Team as selected by league coaches, SIDs and media and released Wednesday by the league office.
Gruis has started nearly every game for the Coyotes during his first three seasons. He scored his 1,000th career point in the final game of last season. He averaged 12.3 points and 6.1 rebounds a year ago, which ranked 12th and seventh in the Summit League, respectively.
Gruis was one of the most accurate shooters in the nation last season at 56 percent. He also blocked 28 shots, handed out 56 assists and had two double-doubles. He scored 26 points in a game against IUPUI, and had 12 points and 12 rebounds against Western Illinois in the Summit League Tournament.
Gruis hails from Ellsworth, Minn., and attended Ellsworth High School.
2013-14 Preseason All-Summit League Team
First TeamLawrence Alexander, Jr., G, NDSUMarshall Bjorklund, Sr., F, NDSUTaylor Braun, Sr., G, NDSUJordan Dykstra, Sr., F, SDSUJustin Simmons, Sr., G, OmahaChris Udofia, Sr., F, Denver
Second TeamTrevor Gruis, Sr., C, South DakotaLuis Jacobo, Sr., F, Fort WayneAdam Link, Sr., F, Western IllinoisBrett Olson, Jr., G, DenverMitch Patton, Sr., C, IUPUI
Courtesy: Universtity of South Dakota