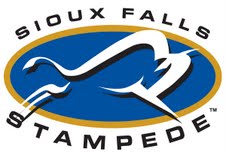 West Orange, NJ (KWSN)--The Sioux Falls Stampede will begin pre-season play this weekend when they participate in the USHL Atlantic Challenge in New Jersey, Friday through Sunday. The Stampede are one of six USHL teams that will participate in the first ever showcase on the east coast. The Herd practiced Thursday night at Codey Arena in West Orange, New Jersey in preparation of the games.
The Herd begin Atlantic Challenge play tomorrow (Friday) when they face Cedar Rapids at 7 PM (Central). Fans can hear all the action live on KELO News Talk 1320-AM and online at www.kelo.com starting at 6:45 PM. On Saturday, the Herd will take to the ice against Youngstown at 11:30 AM (Central). Fans can listen to the game live on KWSN AM-1230, FM-98.1 and online at www.kwsn.com. Sioux Falls will close out play on Sunday when they face Muskegon at 10 AM (Central). That game will not be available on radio.
All three games can be viewed online through Fast Hockey at www.fasthockey.com.
The Stampede opened training camp on Tuesday and have 27 players along on the pre-season trip. The team will return home to Sioux Falls on Sunday and then travel to Sioux City for the USHL Fall Classic West on September 11th and 12th with games against Omaha and Sioux City.
The Herd open regular season play on Saturday, September 21st in Des Moines against the Buccaneers. Sioux Falls home opener is set for Friday, October 4th when they square off against the Omaha Lancers at the Sioux Falls Arena. Season, partial, group and suite tickets are now available and can be purchased by contacting the Stampede office at 605-336-6060.
Courtesy of Sioux Falls Stampede