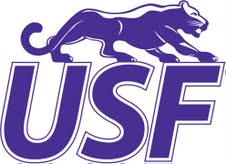 SIOUX FALLS, S.D (KWSN)- The University of Sioux Falls men's and women's cross country teams were both ranked in the USTFCCCA NCAA Division II Regional Cross Country Rankings this week.
The men moved up one spot into 5th place after their performance at the Augustana Twilight Invitational last weekend. The Cougars finished 3rd overall at the meet trailing only defending NSIC Champion Augustana and Division I Nebraska. The USF men were the second highest rated team in the NSIC trailing only Augustana.
The women were rated 8th in the region after their 5th place finish at the Augustana Twilight Meet. This is the first time in school history the USF women have been rated in the USTFCCCA Regional Rankings.
"Our team works hard on a daily basis and focuses on doing the little things to make sure that we can be as competitive as we can when it counts," said head coach Grant Watley. "Seeing both our squads regionally ranked is a huge honor for our program as we seek to establish ourselves as a Conference, Regional, and National caliber cross country program but we understand that there is much work that still needs to be done in order for us to reach our goals for the season."
Both the men's and women's teams will compete in the St. Olaf Invitational this weekend in Northfield, Minn.
Courtesy of University of Sioux Falls