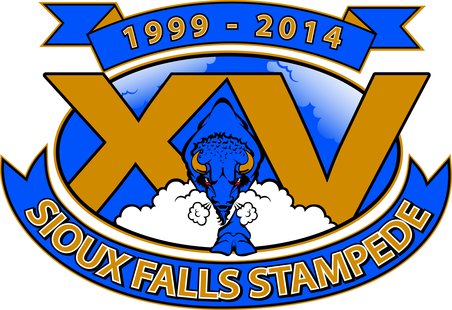 Sioux Falls, SD (KWSN)—The Sioux Falls Stampede are excited to announce "15 Days of Giveaways" starting today and running through the home opener on Friday, October 4th versus Omaha at 7:05 PM. The promotion is in conjunction with the Stampede's 15th anniversary season this year.
The Stampede will be interacting through Facebook and Twitter, giving a lucky fan a chance to win a different prize each day. Fans must "like" the Stampede on Facebook and "follow" the Herd on Twitter @sfstampede."We really want to give back to our loyal fans this season," said Stampede CEO/President Tom Garrity. "It is a great way to kick off our 15th anniversary season and is just the start of the many things we will be doing with our fans over the year. Social media is such a popular outlet these days we thought it would be a perfect way to interact with our fans."Some of the prizes that will be given away include tickets to a Minnesota Wild hockey game, tickets to a University of Minnesota men's hockey game, Stampede tickets to opening night, shirts, an autographed Stampede stick, hats, a chance to be part of the radio broadcast, etc.
Fans will have the chance to participate every night by retweeting messages on Twitter, reposting posts on Facebook and answering various Stampede trivia questions. All winners will be notified through Twitter or Facebook. Fans must interact through the correct social media outlet for a chance to win.
Fans can follow the Stampede on Facebook and Twitter @sfstampede for the latest Stampede news throughout the season, plus other chances to win throughout the season. Click here to follow the Herd on Twitter and click here to follow the Stampede on Facebook.
The Stampede officially kick off their 15th anniversary season this Saturday when they travel to Des Moines to face the Buccaneers at 7:05 PM. Fans can listen live on KELO News Talk 1320-AM and 107.9-FM as well as online at www.kelo.com starting at 6:40 PM.
You can also watch the game through Fasthockey by visiting www.fasthockey.com.
Season, group, and suite tickets are now on sale through the Stampede office by calling 336-6060.
Courtesy: Sioux Falls Stampede