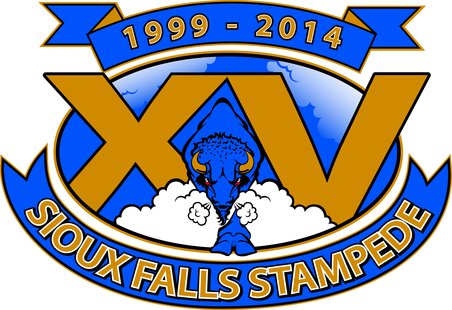 Jim Olander
The Stampede (34-17-7) close out the regular season this weekend. Tonight (Friday), Sioux Falls heads to Lincoln to face the Stars at the Ice Box at 7:05 PM. Fans can catch all the action live on KELO News Talk 1320-AM, 107.9-FM and online at kelo.com starting at 6:40 PM.The Herd return home tomorrow night when they entertain the Omaha Lancers in the final regular season game ever at the Sioux Falls Arena. Game time is 7:05 PM and tickets are still available through the Sioux Falls Arena Box Office or any Ticketmaster location. The Stampede enter the weekend just two points behind Sioux City for third place in the West. Should the Herd end up tied with Sioux City in points, the Herd would take the #3 seed into the playoffs based on their tiebreaker with the Musketeers.________________________________________
Take My Jersey Night Saturday is also Sioux Falls Ford "Take My Jersey Night." Fans can purchase raffle tickets at the game for a chance to win a gold Stampede game worn jersey. Proceeds from the raffle will benefit the Make-A-Wish Foundation of South Dakota. Be sure to be on the lookout for Make-A-Wish volunteers who will be all over the Arena selling raffle tickets for the event. Winners will go onto the ice after the game and meet the player to receive their jersey right off their back!
_______________________________________
Playoff tickets on sale now!The Stampede begin Clark Cup Playoff action next weekend at either Waterloo or Omaha and will return home for Game 3 on Thursday, April 17th at 7:05 PM. Tickets for Game 3 are on sale now at any Ticketmaster location or the Sioux Falls Arena Box Office. If necessary, Game 4 will take place onFriday, April 18th at 7:05 PM at the Sioux Falls Arena. Click here for more information and the full playoff schedule based on where the Stampede finish in the standings. Don't miss the most exciting hockey of the season and help cheer on the Herd as they make a run at a Clark Cup championship! WESTERN CONFERENCE STANDINGS1. Waterloo 89pts2. Omaha 81pts3. Sioux City 77pts4. Sioux Falls 75pts
_______________________________________
Stampede fans raise nearly $8,000 for Special OlympicsThe Stampede would like to thank Modern Woodmen and all our fans for helping raise nearly $8,000 for Special Olympics South Dakota last Friday night at the Stampede game. Funds were raised through sponsors and a silent auction of sports memorabilia during the game. Thank you to all that participated to help make this a success!