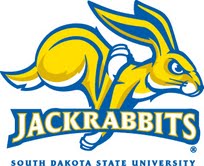 Ryan Sweeter
The South Dakota State softball team played its first true home games since April 29, 2012 on Friday, but the visiting North Dakota State Bison spoiled the occasion by sweeping the doubleheader by the scores of 5-1 and 14-2.
The losses drop the Jackrabbits to 7-25 overall and to 2-9 in The Summit League, while the Bison improve to 23-13 overall and remain atop the league standings with a 6-1 record.
NDSU got a solo homerun from Logan Moreland in the opener to take the early lead, but Sammy Bingham hit a leadoff homerun for the Jacks in the bottom of the first, her first of the season, to knot the game at 1-1 after one inning.
The Bison got two more in the top of the second and added single runs in both the fourth and seventh innings, and then relied on the arm of starting pitcher Krista Menke the rest of the way. She struck out 13 batters in the game and faced the minimum number of batters in picking up the complete game win to improve to 17-5 on the season.
Jennifer Sutton went the distance for the Jackrabbits in taking the loss.
The visitors put the second game away early, scoring four runs in first inning, three in the second and four in the third to take a commanding 11-0 lead after three innings.
NDSU added three more in the top of the fifth to go up 14-0 before the Jacks plated a pair of runs in the bottom of the fifth to avoid the shutout.
Tabby Bayers picked up the Game 2 win the circle, while Katie Lang took the loss.
The Jacks look to avoid the three-game sweep on Saturday in the series finale at noon.