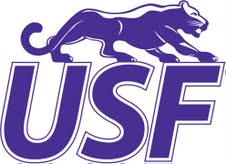 Sioux Falls, SD (KWSN) - Five Cougar miscues and no offense gave St. Cloud State repeated momentum, runners on base and runs scored over the course of the afternoon, resulting in USF (14-17, 8-10 NSIC) dropping both ends of the double-header, 10-3 and 2-0.
The series was moved from St. Cloud, Minn., to Sioux Falls because of unplayable conditions, but the Huskies (23-6, 12-3) made themselves right at home, pounding out 18 hits in the twinbill.
Game one got off to an ominous start for USF as the Huskies blended two Cougar errors in the top of the first—including a lead-off hiccup by the third baseman— with three hits to build a 3-0 lead.
Although the Cougars tried to shake off that unsettling beginning, they stumbled to a 10-3 loss to St. Cloud State.
Zach Hoffmann delivered for SCSU, hitting a two-run homer and going 3-for-3 with 5 RBI to pace the Huskies' potent offense.
After the three-run first inning, Cougar starter Eric Brothers settled in to scatter three hits over the next three and two-thirds frames. But with two outs in the fifth, Brothers beaned Mike Jurgella before Hoffmann's homer to left field boosted the Huskies' lead to 5-0. SCSU batted around to plate six runs on five hits to break the game open.
Brothers' teammates provided failed to provide enough runs to get the Cougars back in the game. The teams exchanged runs in the sixth and USF put its first two men on in the seventh and both scored when a shoddy throw by the SCSU third-sacker ruined a routine 5-3 ground-out. Cole Sweeney then walked to put runners at the corners with no outs but SCSU reliever Nick Maiers struck out Ryan Fobes and got Noah Coleman to ground into a game-ending double play.
Brothers (1-4) took the loss, giving up nine runs (three earned) on 10 hits in five innings. He struck out two, hit a batter and threw a wild pitch.
Husky ace Kyle Fischer outdueled Brothers, yielding one run on five hits in six innings, walking one and fanning nine batters.
Coleman went 2-for-4 at the plate, while Dwyer, Lopez, Crow and Michael Downs accounted for USF's other four hits.
The Cougars offense also undermined a strong effort from Dylan Rock in the nightcap, tagging the SCSU pitching staff for a measly three hits — all of which came in the first three innings — in a 2-0 loss.
Corey Fitzgerald (5-0) tossed eight innings of three-hit shutout ball for the Huskies, striking out 11 with just one base on balls. St. Cloud State closer Reese Gregory put away the final three outs to record his fourth save.
Rock (0-1) was in control from the start, holding SCSU to one run on four hits. He walked four and was charged with a balk.
Brandon Arnold doubled with one out in the first and put the Huskies on the board when he stole home while Jurgella was getting picked off second base with one out in the first.
St. Cloud State picked up an insurance run in the seventh when USF reliever Kevin Handt uncorked a wild pitch.
The Cougars got three total hits from Gunner Peterson, Anthony Lopez and Fobes.
USF and SCSU will wrap up their weekend series tomorrow at Harmodon Park with first pitch of the double-header slated for 2:30 p.m.
Courtesy: University of Sioux Falls