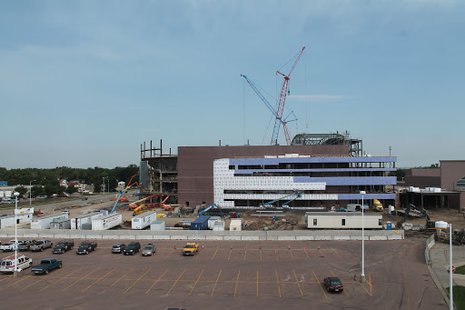 Sioux Falls, SD (KELO-AM) The public is invited - for free - to observe the construction progress inside the new Denny Sanford PREMIER Center in Sioux Falls.
A special viewing area on the event level will be available Saturdays from 6 to 8 p.m. and Sundays from 1 to 4 p.m. through March 30.
"This really is a unique opportunity for the public to see inside the largest, publicly funded project in Sioux Falls' history while it is being built," says Kendra Siemonsma, Special Projects Manager for the City of Sioux Falls. "This building truly is for the people of Sioux Falls, and we want them to see it before the doors open this fall."
During the time frame of the sneak peek events, the installation of the seats will begin, work on the center-hung scoreboard and the ribbon board around the event level will occur, and more. The construction of the Denny Sanford PREMIER Center continues on schedule and on budget.
There is no need to RSVP—all are welcome! To attend, please go to the area near Meeting Room 14 at the Sioux Falls Convention Center, 1101 North West Avenue. Signs will direct you. SMG staff also will be on hand to answer questions and provide information.
For a list of exact dates and parking information, go to www.siouxfalls.org/eventscenter.