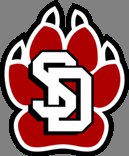 VERMILLION, S.D.—South Dakota point guard Trey Norris made a game-winning free throw with 1.5 seconds left to give the Coyotes an 87-86 win against Omaha Thursday at the DakotaDome.
South Dakota (11-15, 5-6 Summit) has won two in a row and can get even in Summit League play at home Saturday against Western Illinois (9-17, 3-8). Omaha (15-12, 4-7) has lost three in a row.
Norris' free throw followed a long-range 3-pointer by Omaha's Caleb Steffensmeier that tied the game at 86-86 with 19 seconds remaining. Steffensmeier hit two three's in the final 35 seconds that accounted for all six of his points.
South Dakota called timeout with 11 ticks left. Norris caught a pass with three seconds left at the top of the key and Omaha's Marcus Tyus ran out to challenge, but ran right into Norris to send him to the line.
Norris made the first and intentionally missed the second, but failed to hit the rim. With no timeouts left, Omaha threw a long pass into the frontcourt. South Dakota's Tyler Flack deflected the pass, but it went straight to Omaha's CJ Carter whose look from 30 feet away bounced off the top of the backboard and away as time expired.
Carter made three triples and had 19 points to lead Omaha. Mike Rostampour had 18 points and 11 rebounds, but fouled out with six minutes remaining. One of Omaha's top players, Justin Simmons, didn't play in the first half for undisclosed reasons. He played seven minutes of the second half and had four points.
Flack was the game's leading scorer and he tied his career high with 21 points. South Dakota got 49 points off its bench, including 16 from Adam Thoseby, 14 from Casey Kasperbauer and 12 points, seven rebounds and five assists from Brandon Bos.
South Dakota matched Omaha's up-tempo style of play, but turned it over 20 times as a result. The Coyotes overcame them by shooting 53 percent from the field and by making 9 of 14 three-pointers. Kasperbauer was 3 of 4 from beyond the arc. Thoseby was 2 of 4.
The Coyotes led by as many as 10 points in the first half and by three, 38-35, at the break. Omaha led 50-44 five minutes into the second half, but South Dakota scored the game's next 10 points. South Dakota led 70-61 with 6:31 remaining.
It was 85-80 South Dakota when Steffensmeier picked up a loose ball and drained an off-balance three. Bos was fouled and made 1 of 2 to make it 86-83 with 30 seconds left. Steffensmeier's second 3 followed. Omaha was 7 of 24 from beyond the arc.
South Dakota avenged a 77-73 loss at Omaha last month and improved to 9-3 at home this season. The Coyotes play their home finale at 4 p.m. Saturday against the Leathernecks.
Bryan BoettcherSports Information Director
University of South Dakota