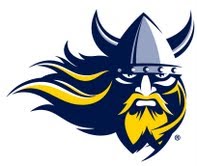 NEW ORLEANS, NO (KWSN) – Augustana capped off one of its more fruitful track and field seasons by placing eight individuals on the US Track & Field and Cross Country Coaches Association All-Academic honors.The men's and women's teams collected Team All-Academic accolades in the Wednesday-morning release.
The women secured five spots and the men earned three citations on the USTFCCA All-Academic list which requires student athletes to maintain a 3.25 GPA and reach a provisional or qualifying mark in either the indoor or outdoor seasons. Four of the five women reached the NCAA Championships and all five hold a GPA above 3.5.
Charissa Etrheim led all Vikings with a 3.97 GPA and reached her qualifying mark as part of the Augustana record-breaking indoor 4x400-meter relay team. Colleen Everson (3.72 GPA) and Kayla Mescher (3.52) joined Etrheim on the indoor team and teamed with Anne Parsley (3.67) for a new Augustana outdoor 4x400-meter record that sent them to the NCAA Outdoor Championships where they placed 11th – Etrheim served as the alternate on the national-meet roster.
Mescher also posted qualifying times as a member of the All-American distance medley relay team and hit the individual qualifying standards in the indoor 800-meter run and outdoor 400-meter hurdles.
Kelsey Kaufmann collects the USTFCCCA All-Academic award after posting qualifying marks in the women's high jump in both indoor and outdoor seasons while keeping a 3.71 GPA. Kaufmann swept the indoor and outdoor Northern Sun Intercollegiate Conference high jump competitions and placed 16th at the NCAA Division II Indoor Championships.
Those five Vikings helped the women earn their second-straight and ninth total USTFCCCA Team All-Academic Award with a 3.17 combined GPA among all team members. Three men collected All-Academic honors led by Adam Braun's second appointment to the USTFCCCA list.
Braun reached the qualifying standard in the 3,000-meter steeplechase while maintaining a 3.51 GPA. Keegan Carda and Ryan Heuer both make their first appearance on the All-Academic list, achieving their first provisional qualifying marks this past year.
Carda reached the 10,000-meter run provisional standard and has kept his GPA at a 3.31 in his two years at Augustana. Heuer hit a provisional mark four times in the 60-meter hurdles and once in the 400-meter hurdles while achieving a 3.71 GPA.
The men's team collects the team All-Academic award for the fifth time in program history as they posted a combined 3.03 GPA for all team members.
Courtesy: Augustana College