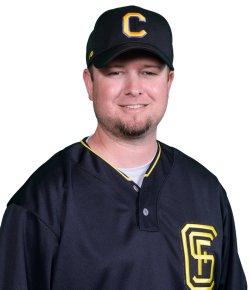 SIOUX FALLS, SD (KWSN) – The Sioux Falls Canaries are pleased to announce that RHP Ben Moore has been named the American Association Pointstreak Pitcher of the Week for June 16th.
Moore, 33, improved to the 3-1 on the season after a pair of North Division wins against St. Paul and Fargo-Moorhead this past week. He took the mound on June 10th, helping snap the Canaries 10-game skid with an impressive outing against the St. Paul Saints. The righty allowed four runs over seven innings and did not walk a batter while striking out nine to lead the Canaries to a 10-5 victory on his birthday.
Five days later he matched the victory with an equally impressive outing in game-two of a Father's Day double header at Sioux Falls Stadium. Moore picked up the complete game shut-out, holding the Fargo-Moorhead RedHawks to just five hits over seven innings, while striking out seven batters, walking two in a 4-0 victory.
For the week, Moore allowed two earned-runs on 13 hits while striking out 16 batters in 14 innings of work. Already the all-time strike out leader in American Association history with 651 career K's, Moore is currently second in the league this 43 strike outs in 2014.
The Sioux Falls Canaries have won four of their last five games and continue their six-game homestand tomorrow (Tuesday) against the Amarillo Sox at 7:05 PM. The Canaries will be teaming up with Feeding South Dakota on Give Back Tuesday where fans can receive 2-for-1 tickets with the donation of a non-perishable item. The Birds continue play Wednesday with a 12:05 PM first pitch and conclude Thursday with a 7:05 PM start against the Sox. Call 336-6060 for ticket information.