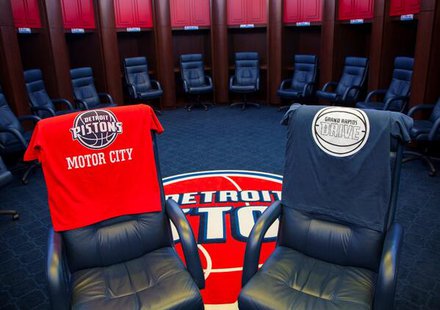 Grand Rapids, MI (KWSN) - The offseason changes continued today for the NBA Development League, as the league welcomed the Grand Rapids Drive. A social media campaign showing Michigan celebrities and figures was held showing off the new logo, a nod to the Detroit Pistons "Bad Boys" era kicked off this afternoon with everyone from NBA D League president Dan Reed to actor JK Simmons taking part.
Grand Rapids is the 5th D-League team to enter a new single-affiliation partnership with an NBA team this offseason. Previous independent clubs Iowa and Bakersfield aligned themselves with Memphis and Phoenix, respectively. Erie lost their affiliation with New York when the Knicks bought their own team in suburban NYC, however the Bayhawks have since signed on with Orlando. While in Idaho, the Stampede saw their single-affiliation agreement with Portland go by the wayside when the Blazers chose not to renew their contract, however it didn't take Idaho long to find a new dance partner when the Utah Jazz stepped in to become the Stampede's new hybrid affiliate.
All told there are now 18 teams in the NBA D-League – 17 with a one-to-one relationship with an NBA Club and one independent team, the Ft Wayne Mad Ants. The D League has not commented on how the Mad Ants will handle 13 parent clubs or any future league expansion.
The Grand Rapids franchise was previously known as the Springfield Armor; the team was purchased and moved to Michigan to be hybrid affiliated with Detroit.