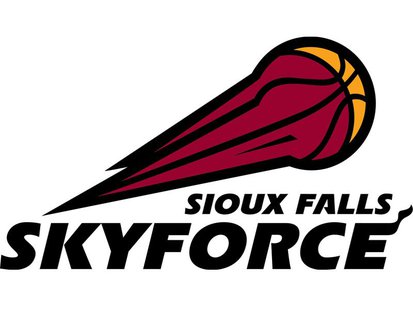 Canton, OH- (KWSN)- The Canton Charge took their fourth consecutive home game in a 108-99 victory over the Sioux Falls Skyforce in front of 2,913 at the Memorial Civic Center on Sunday afternoon. The win puts Canton at 25-15 and 0.5 game ahead of Fort Wayne for the East Division lead with 10 to play, while Sioux Falls dropped to 23-17 on the year.
The first half reflected the fact that the Charge and Skyforce are the D-League's top two scoring defenses respectively, with both teams shooting under 37% from the field and Sioux Falls holding just a 43-41 edge at intermission. The break allowed both teams to switch gears into an offensive barrage in the third, as Canton hit 13-of-18 shots (72%) and the visitors counterpunched by forcing seven turnovers for eight points while hitting 10-of-20 shots of their own (50%).
After seven lead changes and five ties in the third, the Charge pulled up 70-66 thanks in part to a 9-2 run in the final 2:00of the quarter. Sioux Falls went ahead twice in the fourth by one point, but Canton's potent shooting attack in the second half would not allow them to be denied. One night after scoring 70 second half points by hitting 74% of shots, the Charge netted 67 on 73% shooting in the latter half tonight to sink the Skyforce.
The Charge dominated the paint, hitting 31-of-44 attempts in the area for 62 points to the Skyforce's 38. Canton also cleaned the glass for 51 rebounds to Sioux Falls' 28. The Charge's staunch defensive unit came into the game allowing just 99.8 points per game and the team is now 18-3 when holding opponents under 100 points this season.
Three Canton players posted double-doubles, led by Arinze Onuaku's 14th of the year with 28 points on 13-of-17 shooting, 17 rebounds and one block in 35 minutes. Will Cherry netted 14 points and a season-high 10 assists with two steals in 41 minutes for his first career double-double. Olek Czyz came off the bench to add 16 points, 10 boards and two blocks in 31 minutes. One night after topping his season-best scoring game, Sergey Karasev did it again with 23 points on 6-of-12 shooting, six rebounds and two assists in 39 minutes.
Anthony Mason Jr. provided strong minutes of relief off the bench to lead Sioux Falls with 21 points on 9-of-16 shooting and five rebounds in 29 minutes. Tre Kelley netted 14 points with five assists and three steals in 36 minutes. Larry Drew poured in 21 points on 7-of-15 shooting with six assists. The season series between the two clubs is tied at one heading into Tuesday's final meeting after the home team has won each of the first two contests.
Courtesy: Canton Charge