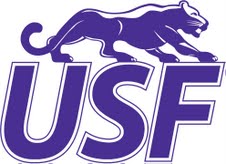 Paul Watley
BURNSVILLE, MINN. (March 27, 2014) – The University of Sioux Falls men's and women's track and field teams were tabbed third and sixth respectively, in the 2014 Northern Sun Intercollegiate Conference Outdoor Preseason Coaches' Poll, as announced Tuesday by the conference office.
On the men's side, the Cougars received 99 points which placed them third in the poll; 22 points behind the coaches' top pick Minnesota State who received 11 first place votes. Augustana College was in second with 111 points, including one first place vote.
Kaleb Lindsey-Stevens and Scott Greenman were tabbed as the USF athletes to watch for the outdoor season. Lindsey-Stevens notched two individual NCAA provisional marks during the 2013-14 indoor season, in the 200m dash (22.10) and the Long Jump (23-2/7.06m). He was also a member of the NCAA Championship qualifying Distance Medley Relay, but was unable to compete at the championships due to an injury. Greenman earned NSIC All-Conference honors at the NSIC Indoor Championships when he finished third overall with his vault of 16-0.75 (4.90m). He also earned NCAA Division II All-American honors in the Pole Vault with his third place vault of 16-8.75 (5.09m).
The Cougar women received 115 points to rank sixth overall and were only 11 points behind fourth ranked Minnesota State. Minnesota Duluth was the coaches top choice with 166 points and ten first place votes while U-Mary came in second with 158 points and four first place votes.
The USF female athletes to watch were seniors Kendra Knight and Brigitte Gross. Knight was a two-time All-NSIC performer in the 400m dash and the 4x400m Relay. She also qualified for the NCAA Championships in the 400m dash with her time of 56.74. Gross became the first NCAA National Champion in USF history with her vault of 12-11.5 (3.95m) at the championships. Gross qualified for the meet by hitting a NCAA automatic qualifying mark when she cleared the bar set at 13-1.5 (4.00m).
The Cougars will kickoff their outdoor season this weekend when they travel to Wayne, Neb. to take part in the Wildcat Classic and Multi-Events.