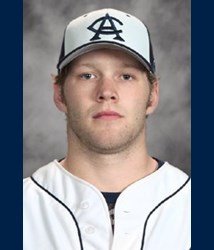 OMAHA, Neb. (KWSN) – Augustana baseball's Tony Viger has been named one of eight finalists for the 2014 Tino Martinez Award, D2baseballnews.com and College Baseball Lineup announced on Friday. The annual honor is named after the former University of Tampa Spartan, Olympian and MLB All-Star Tino Martinez. The award is presented to the most outstanding player in Division II college baseball.
A national panel of media, coaches and sports information directors was polled to finalize the candidates. The winner will be named the Mondayfollowing the Division II Baseball Championships held in Cary, N.C. May 24-31. The other finalists include Giancarlo Brugnoni from Grand Valley State, Stephen Dezzi from the University of Tampa, Colorado Mesa's Austin Kaiser, Concord's Joe Miller, Mount Olive's Bradon Reitano and Phillip Wilson of Central Oklahoma.
Viger, was recently been named a First Team All-America selection by Daktronics and the National Collegiate Baseball Writers Association (NCBWA) to go along with three first team all-region honors. Viger was named the Central Region Player of the year by Daktronics and the NCBWA after being named the Northern Sun Intercollegiate Conference's Player of the Year. Viger led the NSIC in multiple categories in 2014, including runs scored (56), hits (90), RBI (62), doubles (28), and total bases (152). Viger batted a career-high .407 in 57 games on the season and led the NCAA in doubles. He finished the season ranking in the top 15 nationally in batting average (14th), runs (fifth), hits (third), doubles (first), RBI (eighth), slugging percentage (eighth), and total bases (fourth).
Augustana finished 41-16 in 2014, setting a new school record for wins in a single season while winning its first NSIC Tournament Championship. Augustana made its second NCAA Regional Tournament appearance in team history and finished the NSIC season 25-8 which was good for a second-place finish in the final league standings
Courtesy Augustana Sports Information