« Shows & Personalities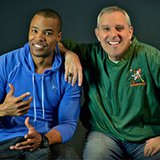 Fox Sports Daybreak
On Air:

Weekdays, 5am - 8am
About the Show

FOX Sports Daybreak featuring Andy Furman and Artrell Hawkins starts the morning off right, with Andy and Artrell breaking down the latest sports news, information and analysis.

Furman, a native of Brooklyn, New York, has been a strong voice in the world of sports talk radio for more than 20 years, with much of his time spent in Cincinnati. Furman has been a fixture on Fox Sports Radio for over a year as host of a weekend show with former NFL All-Pro Lincoln Kennedy.

Hawkins has also spent much of his career in Cincinnati, as he played college football at the University of Cincinnati and was drafted by the Cincinnati Bengals in the second round of the 1998 NFL Draft. While in the NFL, he played cornerback and safety for the Bengals, Carolina Panthers and New England Patriots. Hawkins retired from the NFL in 2008 and, in addition to his FOX Sports Radio duties, is a contributor for the Bengals Radio Network.