« Shows & Personalities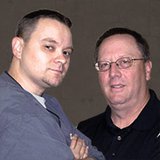 Sports Talk w/Craig & Chris
On Air:

Weekdays, 3pm - 6pm

Hosts:

Chris Tubbs, Craig Mattick
About the Show

Great Guests, Great Talk & Your phone calls!

Show Hosts

Chris Tubbs

Chris Tubbs is the newest member at KWSN, but has several years of broadcast experience, including stops in North Dakota, Missouri, Kansas and Minnesota. Chris and his wife have a young daughter and when not spending time with them he stays active with softball and his numerous fantasy football leagues.

Craig Mattick

I've been in radio/tv since 1975. Moved to Sioux Falls in 1986. I've been with KWSN for over 17 years. Best radio gig I've ever had! It helps Sioux Falls is a great sports town. I've also broadcast the state high school championships (football, volleyball, wrestling, boys basketball & girls basketball) on South Dakota Public TV for over 11 years.

I'm a runner, as I have run 5 Half-Marathons. My favorite is on the Mickelson Trail in Deadwood. I also stay active with softball and golf.

Married to my beautiful wife, Faith, for over 30-years. We have 6 children, who all love sports.